Church Giving
Church Giving
With Connection Card Pro, you can track giving, easily generate year-end giving statements, and view financial and giving trends within your church and for each individual donor.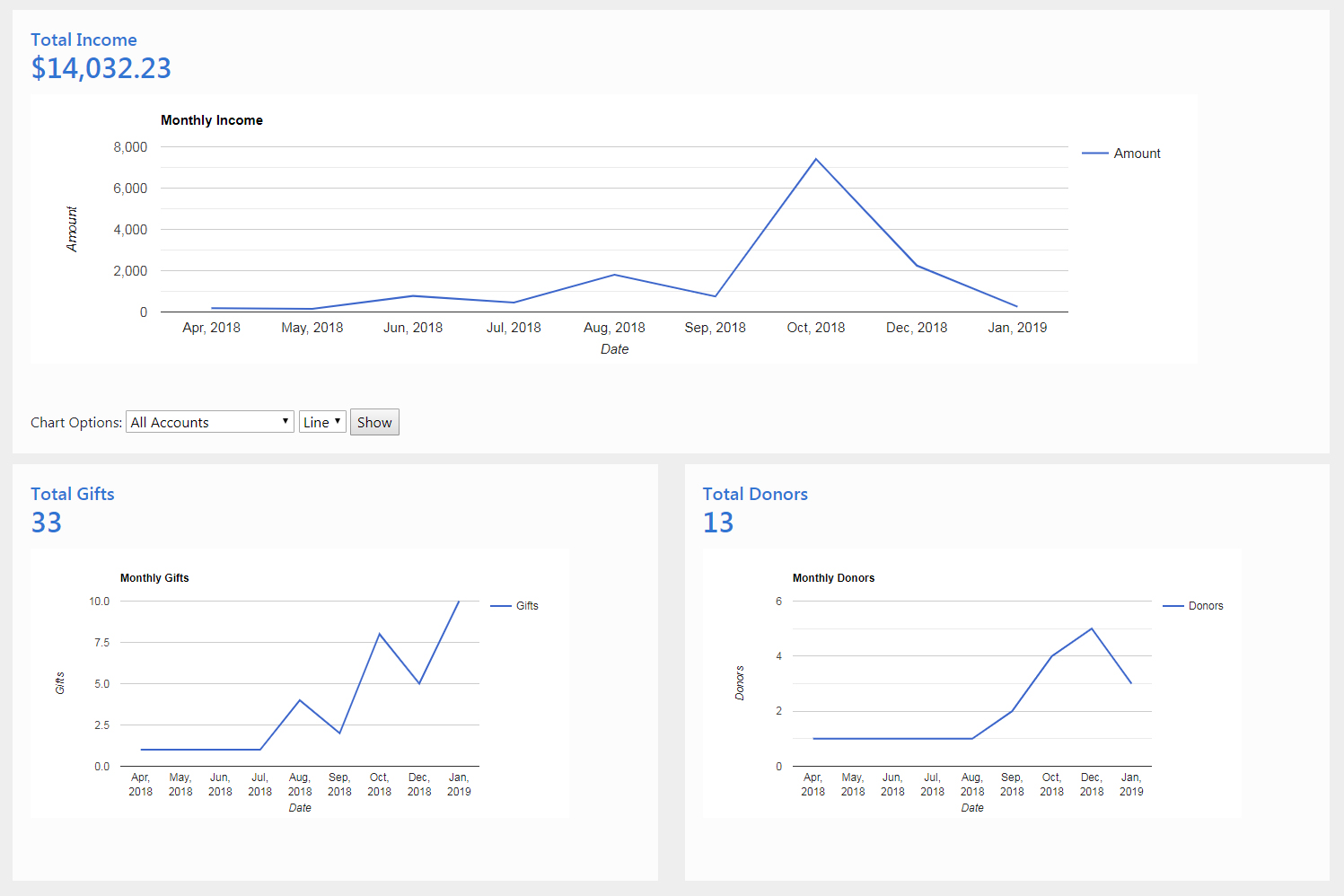 Disclaimer: The records above are for sample purposes only.
I can't believe how quick it was to generate year-end giving statements! What used to take a couple days took only a few minutes with Connection Card Pro!
- Alex L., St. Louis, Missouri
Using Connection Card Pro's financial administration feature set, you can record incoming, donations, and expenses, create and keep track of pledges, view giving and spending trends, generate year-end giving statements, and generate giving and expense reports to help you with taxes.
Easy Year-End Giving Statements
With Connection Card Pro, a few clicks will allow you to generate, download and print an automated year-end giving statement for all donors along with an optional customized letter, personally addressed to each donor, to be included with each giving statement. You have complete control over what you print, and yet Connection Card Pro automates the entire process for you, only generating letters and statements for individuals who made a donation during the year.
Connection Card Pro uses your letterhead for letters. You can create/upload a letterhead to be included on the letters to be printed, or generate letters without a letterhead template in case you're printing onto pre-printed letterhead. Connection Card Pro makes it quick and easy to manage the financial aspects of your church or ministry, giving you more time to focus on what's important.
Track Various Funds
With Connection Card Pro, you can create an unlimited number of funds and may designate any gift, income or expense toward any of those funds. Use funds to separate liquid assets and financial liabilities between departments, ministries, or even individual activities or events. Track each fund separately to know how much is available.
Payroll
Coming June, 2020, use Connection Card Pro to track hours, payroll, generate paystubs, and track reporting and remittances. Setup employee profiles for each member of your staff with their hourly/daily/weekly rate or annual salary. Track number of hours worked and quickly generate pay stubs. Connection Card Pro will calculate deductions and will track amounts that must be remitted monthly, quarterly, or annually. Connection Card Pro will help you maintain payroll reporting compliance.
Back to Full List of Features