Event Registration
Connection Card Pro gives you access to a powerful event registration platform!
Manage and host an unlimited number of events with an unlimited number of participants!

The names and records above are for sample purposes only.
Connection Card Pro gives you options to run online event registration for ticketed and non-ticketed events, camps, team events, conferences, and tiered events.
You have full control over setting up how your event registration works!
Multiple Tiers
Setup multiple tiers to allow the registrant to choose a different price option based on their selected tier. Running a two day conference and allowing participants to sign up for either one-day access or a full conference pass? That's easy with Connection Card Pro! You have the option to allow registrants to select one tier for the entire registration, or select a separate tier for each participant.
Custom Add-on Options
With Connection Card Pro you can create custom form fields to be included in your event registration. Custom fields can also be assigned to custom add-on pricing options. Are you providing an optional meal at your event for an extra cost? Easily create a custom add-on with an additional cost, allowing the participants to check a checkbox or select an item from a dropdown menu.
Team Events
Running a team event of 3 to 30 people (or more)? Connection Card Pro gives you the option to setup your event as a team event, allowing registrants to register the names of all participants on their team for easy team formation. You can choose to charge per person or per team.
Earlybird Rate and Group Rates
With Connection Card Pro's Event Registration Platform, you can set a special earlybird rate or a group rate for a minimum number of participants. These prices will be automatically applied to each registration when the criteria are met.
Limits and Waitlists
You can set a limit to the number of participants someone can register at one time as well as the total number of participants in an event. Registration will be automatically disabled once the maximum number of participants is reached. You can also use the waitlist feature, allowing participants to be automatically added to a waitlist. It's easy on the administrative backend to move participants from the waitlist to the event list!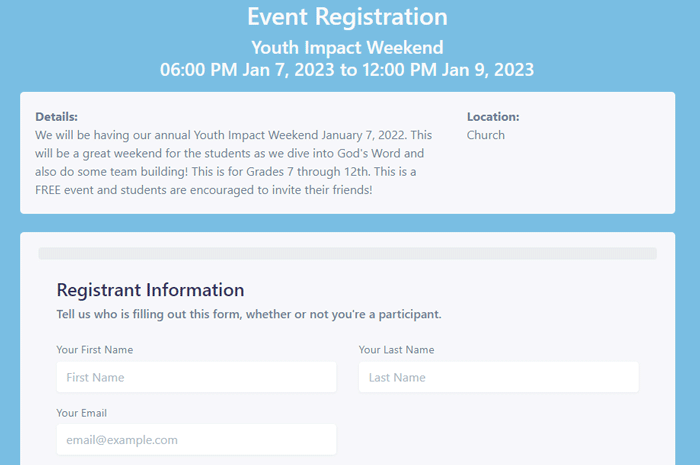 Streamlined Registration Forms
Once you've created an event, use the unique direct URL or the text keyword to direct individuals to your registration form. The online registration form is clean and simple, making it easy for your guests to register for your events hassle-free, make payment online, and download or print their tickets or registration confirmation.
Back to Full List of Features